HOW IT'S MADE: Say cheese curd!
June 1, 2019 9:00 am
It's June Dairy Month, and here at Hansen's Dairy, we are celebrating all of our fresh dairy products! Each week in June we will post a new segment in our "How It's Made" series. The first product we are featuring is our squeaky, delicious cheese curds.
Check out the video below for actual footage of the creamery cheese curd process.
Curds are a popular product made here at Hansen's Dairy. Cheese curds are just the first step in the process of making aged cheese. People rave about eating curds on the day they are made, even when they are still a little warm. The mark of a fresh cheese curd is when it squeaks in your mouth!
Hansen's Dairy makes several flavors of mild white cheddar cheese curds, including plain, spicy red pepper, dill, bacon, buffalo and ranch.
To start the cheesemaking process, 300 gallons of whole milk are added to the cheese curd vat and heated to 90 degrees. When the tank is full, the culture is added, which gives the cheese the mild cheddar flavor.
Hansen's curds are white because no dye is used to color them yellow.
Later, vegetable rennet is added to thicken the mixture and begin the separation process. Soon curds and whey will begin to form, and the cheese is raked to a mixture resembling cottage cheese.
After more agitating and heating, the curds become more solid. The curds are pushed and pressed to drain out as much whey as possible.
The cheese is then cut and formed into large slabs. The slabs are repeatedly cut and stacked on top of each other to squeeze additional whey out of the curds below. This process is called cheddaring.
The slabs go through a mill to be cut into chunks. Salt is added and mixed thoroughly. Finally, the curds are ready to be packaged.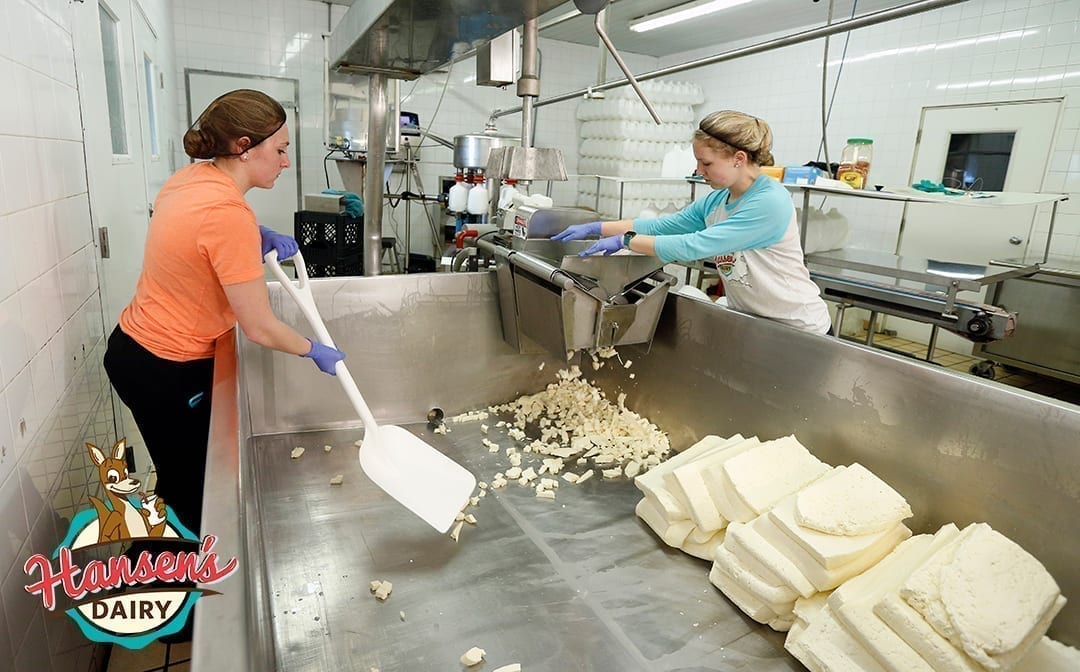 Cheese curds are typically made twice weekly in our on-farm creamery, on Mondays and Wednesdays.
Fresh curds can be kept at room temperature for a few hours (although food inspectors might disagree). The squeak can be revived in refrigerated curds by heating on a microwave-safe plate for 10-15 seconds. Curds can be frozen in a deep freezer.
Hansen's curds are available in 12-ounce bags and 4-pound bags. Many restaurants serve up our cheese curds as appetizers, including Doughy Joey's, Pump Haus, Gilmore's Pub, Table 1912 and La Calle in Cedar Falls; Highway 63 Diner, Locals Bar & Grill, SingleSpeed and Newton's Paradise Cafe in Waterloo; East Bremer Diner in Waverly; Finley's Curbside Bistro in Ames; Ice Cream Junction in Oelwein; and Todd's Neighborhood Grill in Parkersburg.
Hope you enjoyed learning about our cheese curds … next week we will show you how the milk is made!