#MilkMonday a win-win for NEIA Food Bank, Hansen's Dairy
March 22, 2019 4:17 pm
Hansen's Dairy has a long-standing relationship with the Northeast Iowa Food Bank. Now, with the help of the Farm Bureau, Fareway grocery stores, and customers like you, our partnership is about to grow.
Black Hawk County Farm Bureau board members Brad Jesse and Len Orth spearheaded an initiative to increase donations of milk to the Northeast Iowa Food Bank and improve demand of dairy farmers' products.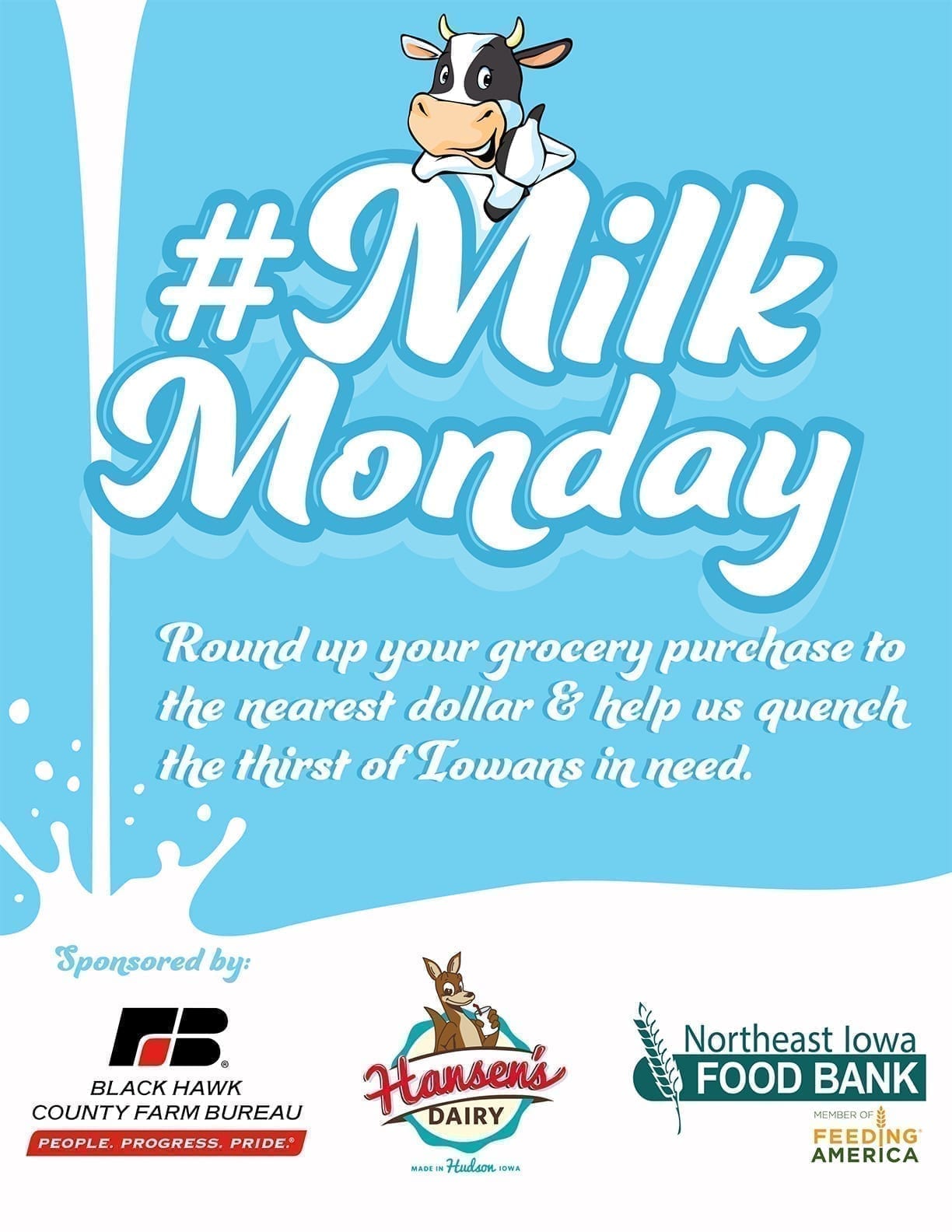 The initiative, called #MilkMonday, will begin on Monday, April 1, and run every Monday through June (National Dairy Month). Fareway grocery shoppers will have the opportunity to round up their total purchase to the nearest dollar to help provide milk to the Northeast Iowa Food Bank. Hansen's Dairy shoppers can also round up their purchase, or they can decide to purchase an extra gallon that will go directly to the Food Bank.
The NEIA Food Bank is located in Waterloo, and serves as a hub for food programs and pantries in a 16-county area: Allamakee, Black Hawk, Bremer, Buchanan, Cerro Gordo, Chickasaw, Delaware, Fayette, Floyd, Grundy, Hardin, Howard, Mitchell, Poweshiek, Tama and Winneshiek.
All Fareway stores in the 16-county region will be participating. Waterloo Fareway Manager Allen Weimerskirch also reported that the Fareway corporation has decided to match up to the first $2,500 raised in the initiative.
The #MilkMonday program will allow the Food Bank to purchase more milk from our farm, which is already supplying the Food Bank with about 50,000 gallons of milk each year through a combination of sales and donations.
Our relationship with the Food Bank is mutually beneficial, and we see it as an important way to give back to our community.
First, a little background into how it all started.
You need it, we've got it
When cows are milked, they naturally produce what's called "whole" milk. The fat percentage of our whole milk is about 3.5%. The milk can be run through a separator to produce two different products: skim milk, which is our biggest seller; and heavy cream, which is bottled itself and also used to make butter and ice cream. For every 10 gallons of whole milk, it will separate into 1 gallon of cream and 9 gallons of skim milk.
For several years now, the supply and demand of cream and skim coming from our farm has been a little out of balance. We need that cream to make those high-demand (yummy) products, but we're just left with way too much skim milk than what our customers demand. Sometimes, in order to have enough cream, that skim milk would literally go down the drain.
Enter the Northeast Iowa Food Bank and Barb Prather, executive director, who just happens to live in our town.
"Milk is one of the harder items for us to keep in stock for the people we serve," Barb said. "And it's such an important part of daily nutrition, giving young kids as well as adults the essential vitamins and calcium they need."
We agree. So in July 2016, we formulated a plan where the Food Bank would purchase skim milk from us at a reduced rate, and we would donate more gallons on top of that. We are at about a 3:2 ratio — for every three gallons of milk the Food Bank buys, we donate two gallons. In 2018, we donated nearly 19,000 gallons of skim milk.
This has benefited both of our organizations in several ways:
We avoid dumping perfectly good milk down the drain.
The Food Bank receives extremely fresh milk — sometimes just bottled at our farm that day — instead of getting close-to-expiration milk that may be cast off from grocery stores.
We get paid for most of the milk, while also donating some and taking advantage of the state of Iowa's Farm to Food Tax Credit.
Our delivery team can efficiently drop a lot of milk at one location.
The Food Bank has distribution points to share the milk across Northeast Iowa.
We salute the Farm Bureau members to spearhead this effort to benefit us dairy farmers while getting nutritious food to those who need it.
"As farmers, we have a calling to help feed people and take care of those in our communities," said Ben Bader, Black Hawk County Farm Bureau president. "And you don't have to be a farmer to realize being able to pull the whole community together to provide milk to families in need is part of the 'farm strong' spirit we all embrace."
To help bring awareness to the event, grocery shoppers are encouraged to spread the word using #MilkMonday on social media.
Will you "round up" for the Food Bank?
UPDATE: The final tally for #MilkMonday is in — $17,115.42 was raised for the Northeast Iowa Food Bank. The amount raised was more than anyone thought possible, and we cannot thank everyone enough for their support of this wonderful cause!