Our Favorite Dairy Snacks – for June Dairy Month!
June 27, 2013 10:39 am
In honor of Dairy Month, we decided to show you a few of our favorite easy to make dairy snacks!
Smoothies: A great way to beat that nasty Iowa heat. Combine yogurt, milk, ice cubes and your favorite fruits and blend to make a tasty, refreshing treat! For an extra-thick smoothie with added calcium, include a spoonful of milk powder. For addition protein, toss in a spoonful of peanut butter with a banana and vanilla yogurt – yum yum!
Ice Pops: A great snack for kids on the go! Mix leftover smoothies from the above recipe or 100% fruit juice, yogurt and fruit like raspberries, strawberries or blueberries. Pour into ice cube trays and pop in the freezer for a sweet, frozen snack!
Parfaits: Parfaits are easily made by layering yogurt, fresh fruit and granola or chopped nuts. Looking for something a little different? Use cottage cheese in place of the yogurt!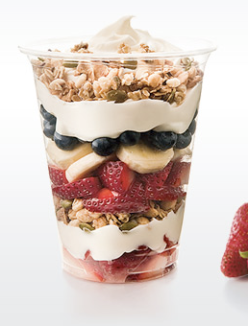 (photo from blueprintforbeauty.com)
Mini Pizzas: A tasty, filling snack. Simply spread pizza sauce onto a whole grain English muffin and top with a small handful of shredded mozzarella cheese. For a heartier pizza, add lean hamburger, Canadian bacon and green peppers or mushrooms. Pop it in the oven for 3-5 minutes and enjoy your yummy, cheesy snack!
Fruit Pinwheels: Spread cream cheese and/or protein-packed peanut butter onto soft, whole grain tortillas. Add small pieces of fresh fruit, then roll and slice.
Quesadillas: Pack whole grain tortillas with shredded cheese, beans, corn, tomatoes and onions. You can also add cooked, cubed beef, pork or chicken. Heat in the microwave until cheese is melted. Serve with sour cream and salsa.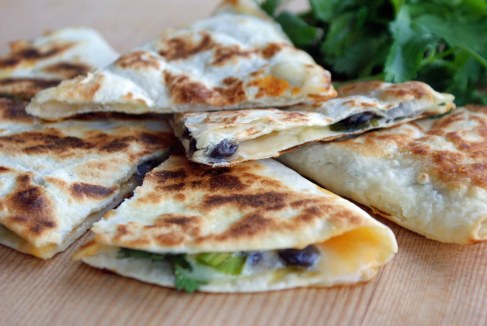 (photo from babble.com)
Fruit Kebabs: Layer fruits like berries, melon and pineapple on a kebab stick. Serve with yogurt or a dip such as softened cream cheese with a touch of drizzled honey and a drop of vanilla.
Whole Grain Waffle Sticks: Transform messy whole grain waffles into an easy-to-eat handheld snack by slicing them into small rectangles. Serve with softened cream cheese and fruit spread.
For additional recipes and to learn more about dairy foods, dairy farms and healthy eating, check out these websites:
Midwestdairy.com
Dairyfarmingtoday.org
3aday.org
Nutrientrichfoods.org
Leave your favorite dairy recipes in the comments below!