The farm photo that says it all
March 12, 2020 1:03 pm
You know that expression "A picture is worth a thousand words"? This is one of those photos that puts it all in perspective.
And a unique perspective it is. This overhead shot of my husband, my son and I was taken by drone on a late afternoon during the August corn harvest. It's one of my favorite photos of my family on the farm (the only thing that would have made it better is if our daughter was in it too — see below).
Spring is upon us, and we are gearing up for another busy summer on the farm. Summer brings long days for even more work to be accomplished — harvesting the crops, giving farm tours, coordinating special events, producing big ice cream orders.
When a flier recently came across my desk advertising our insurance agency's "Moments That Matter" photo contest, I immediately thought of this photo. It was taken a year and a half ago, but I just realized just how strongly I felt about it. The setting, the perspective and our faces tell a great story.
The story of the photo
In 2018, a photographer friend of mine was setting out to do freelance, and he asked if he could use our farm as portfolio material for his new business. I'd been friends with him for several years, and I was always impressed with his work and his diligence in getting the best shots.
We had not taken any professional photos of our farm in several years, and I'm always looking for new images to use in our promotions. I had also been wanting to create new, high-quality informational videos of the farm that we could show to tourists and use on social media. Together I knew we could tell some great stories.
I also knew it would be a gigantic project. Our farm has a lot of different facets. We raise cows, grow crops, process milk, deliver products and market the business. We produce milk, cheese curds, butter, cream, ice cream and beef. We operate two retail stores in Waterloo and Cedar Falls. We open our farm doors to thousands of tourists each year. We keep kangaroos as our mascots. And we have a big family that makes it all go.
I don't think we realized just how much time we would each invest in this project. Being that the photographer was working other jobs, I had to set up an efficient schedule that would make the most of each day he could spend here, capturing the work as it was being done at different times of the day. He was completely immersed in our farm life, spending up to 10 hours a day periodically over the course of a year recording these moments for us.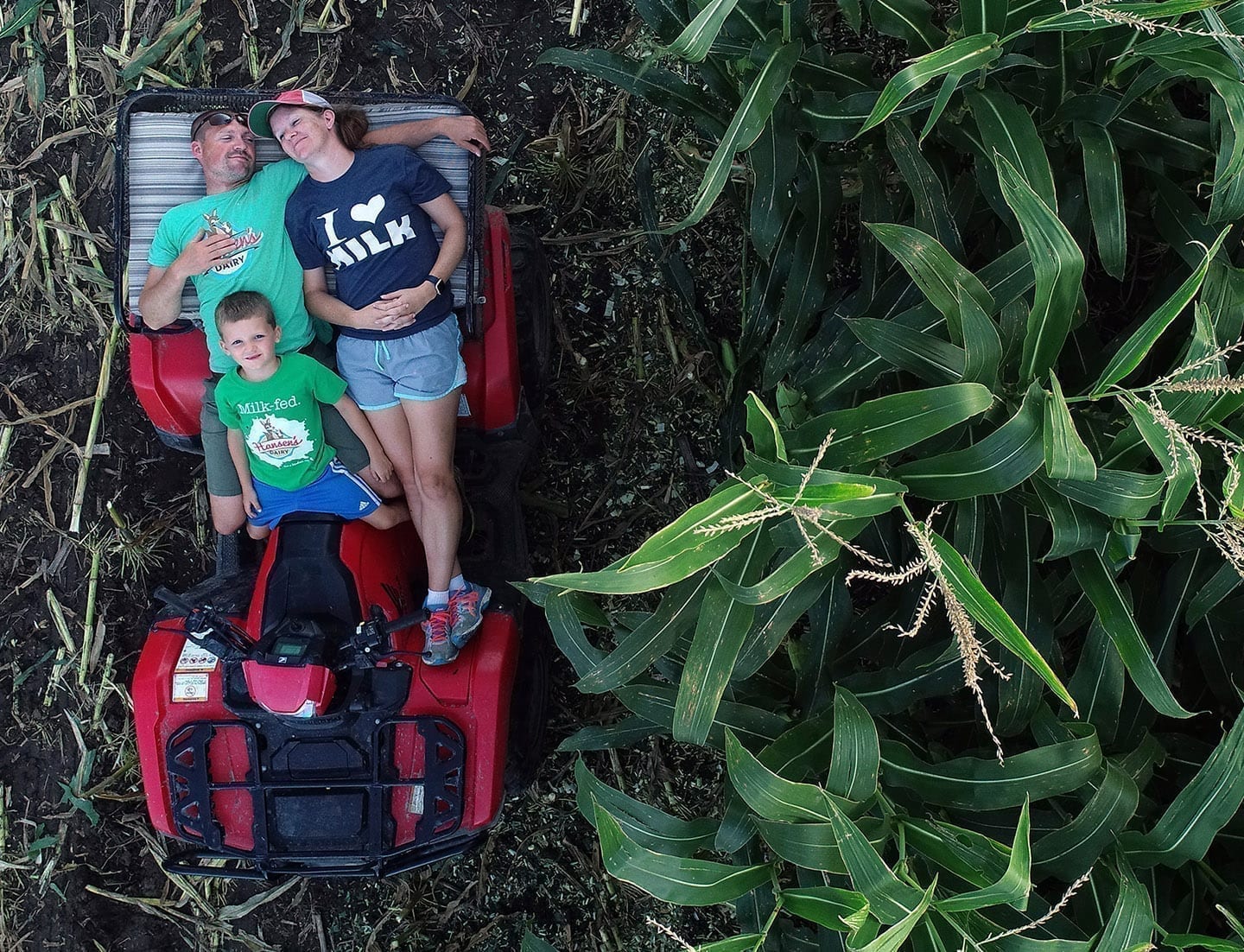 In this particular photo, we were shooting the corn silage harvest, late in the afternoon on a hot August day. It was a game of hurry up and wait; race ahead of the tractor and chopper on the ATV to capture the perfect perspective, then rush to the next spot to try it all again.
As we were waiting for the chopper to circle back around, the photographer was testing out his drone and captured this overhead image of us, unaware, relaxing on the ATV.
It's the end of another long day, sweaty and accomplished, everyone working hard at their role to make the farm run. It's our T-shirts — Hansen's Dairy logos, "I (Heart) Milk," and "Milk-Fed" — displaying pride in our industry. It's the green fields around us, standing thick with bounty that nourishes our cows and our livelihood. It's our faces, portraying love and happiness as we imagine the future of the farm for the next generation.
It's us.
I hope I've been able to capture in words what the photo is worth. It's the background image on my desktop computer, so I see it every day. It reminds me about this life that we live: we are relaxed but reflective; exhausted but exuberant; overwhelmed but overjoyed. Yes, the picture tells our story, and our story lives on.